Smarta Kartan – The Smart Map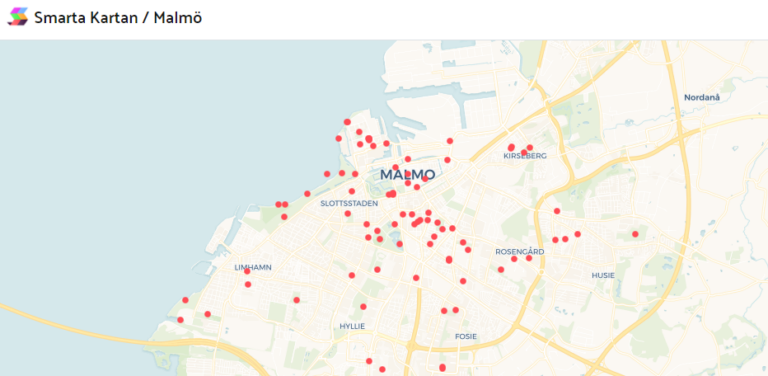 The Smart Map is a mapping of initiatives that promotes access over ownership, for instance bike kitchens where volunteers show you how to fix your bike, electric car pools, and solidarity fridges where anybody can leave and pick up food.
The first Smart Map was created through a collaboration in an idea-based public partnership ( IOP ) between the non – profit association Kollaborativ Ekonomi S v e r i g e ( then Gothenburg ) and the City of Gothenburg , the consumer and citizen service administration . Since then, Smarta Kartan has grown to include more areas in Sweden. At the time of writing, Gävle, Gothenburg, Karlstad, Malmö, Stockholm, Sjuhärad.
By making the activities, places and networks of the sharing economy visible, Smarta Kartan wants to encourage community, new meetings and access over ownership. On the map you will find, among other things, bicycle kitchens, exchange groups, free shops, car pools and various digital platforms.
https://www.smartakartan.se/kontakt/ 
Robin Olsson
Chairman, Collaborative Economy Gothenburg
Sharing culture, communication, editor
robin @kollekogbg.se

Jonathan Mattebo Persson
Co-founder, Collaborative Economy Gothenburg
Project manager and concept developer Smarta Kartan
jmp@kollekogbg.se
+46 700 10 90 80